Welcome to the
Whippet Club of Queensland
AUSTRALIA
Whether you currently own or have previously owned a Whippet or possibly are completely new to the breed, we hope the information contained on this website will be of assistance.
♦ ♦ ♦
Updates will be regularly added to our noticeboard so don't forget to check back for news of club events and happenings.
♦ ♦ ♦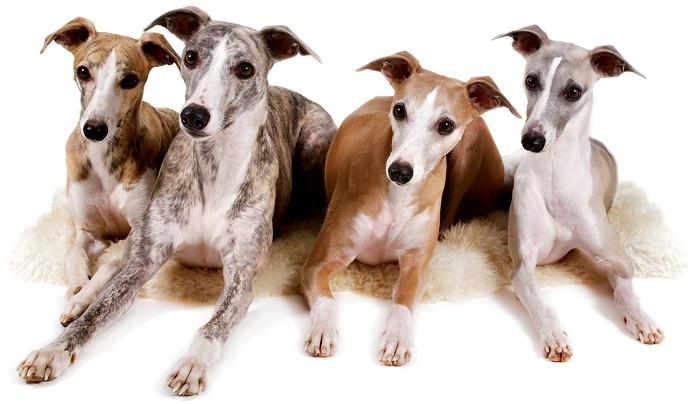 ... CLUB NOTICE BOARD ...
8 November 2017
Christmas Fun Day
All members and their friends - both 2 legged and 4 legged - are invited to our next Fun Day.
Details as follows
Please come along for a great morning - we'd love to see you!! Everyone is welcome.
When:
Sunday 3 December - 9am till 12 noon
Where:
Fenced dog area at Victoria Park on Gregory Terrace Spring Hill
(behind the Centenary Swimming Complex)
Cost:
Gold Coin Donation to Whippet Rescue
What to Bring:
Comfortable chair, own food & drinks and water and bowl for your Whippet.
Events:
Our multi draw Monster Raffle and a brand new range of Merchandise
RSVP:
Julie Hall and Daisy - daisy_whippet@yahoo.com.au
Please pass this invite on to anyone who owns a whippet and may like to join us.
♦ ♦ ♦

4 October 2017
2017 Championship Show Judge's Critique
Our Judge's critique from our 2017 Championship Show has been added to the website.
Please visit our 2017 Champ Show Results - 'Judge's Critique' Page.

♦ ♦ ♦

16 August 2017
2017 Championship Show Results
Full results of our 2017 Championship Show have been added to the website.
Please visit our '2017 Champ Show Results' Page.

♦ ♦ ♦
29 October 2016
WCQ Whippet Rescue
A huge vote of thanks to our outgoing club Rescue Officer ....

Sadly, our totally amazing Rescue Officer Sue Spencer has made the very difficult decision to give up her position with the Whippet club due to other important life commitments.
In the years that Sue has held the position she has worked tirelessly not only to re-home many many rescue Whippets ... but so to in organising our wonderful Fun Days and fundraising efforts towards the rescue work she has carried out on behalf of the club. Her dedication to the welfare of needy Whippets cannot be measured, with the amount of time, effort, dedication, travel and worry that she has put into such a demanding 24/7 task.
Your tireless efforts will be much missed by all Sue - and from the club and heaps of happily re-homed whippies - thank you again!

Sue will continue until the end of December and the details of replacement Rescue Officer
will be updated as soon as such is available.
♦ ♦ ♦

2017 Dates to Remember
Please see our 'About the Club' page for more details on Meetings
and our 'Whippet Fun Day' page for further Walk / Fun Day information.
February

March

Wed 15 - WCQ General Meeting
Sun 19 - QSA Lure Coursing Training Day Sat 25 - WCQ Open Shows

Sun 5 - WCQ Whippet Fun Day
Sat 11 - Sun 12 5th National Whippet Show
Sun 12 - QSA Lure Coursing

April

May

Wed 19 - WCQ General Meeting
Sun 23 - QSA Lure Coursing

Sun 28 - QSA Lure Coursing

June

July

Sun 4 - WCQ Fun Day
Wed 27 - WCQ General Meeting
Sun 25 - QSA Lure Coursing

Sun 9 - QSA Lure Coursing

August

September

Sat 12 - WCQ Championship Show
Sun 13 - QSA Champ Show & Lure Coursing
Mon 14 - Whippet day at the RNA
Wed 23- WCQ AGM + General Meeting


Sun 3 - Sighthound Only Lure Coursing
Sun 24 - QSA Lure Coursing

October

November

Wed 18 - WCQ General Meeting
Sun 22 - QSA Lure Coursing

Sun 19 - QSA Lure Coursing

December 2017

Sunday 3 - WCQ Fun Day followed by WCQ General Meeting
Sunday 10 - QSA Lure Coursing Training Day and Trophy Presentation
We hope you enjoy our website
it is a work in progress with information and photos being added regularly
So please visit us again soon.
Website Last Updated: 13.11.2017
Website Content and Management: Sally Fricker

85180 Visitors